It's not uncommon to see folks on Twitter these days inquiring about the best continuing education on WordPress, particularly for Full Site Editing. Here's a small collection of the best resources out there right now.
TL;DR
FullSiteEditing.com
Carolina Nymark without a doubt was one of the first people – if not THE first person – to create training around WordPress Full Site Editing and theming. Her contributions to the WordPress community are numerous and Carolina consistently has her finger to the pulse of what's happening with the tech and the people.
COST: Free
By Ian Svoboda, Sr Frontend Engineer at 10up (he is v. smart) and fellow lover of pink, this course intends to show us modern techniques that will allow us to comfortably develop our own dynamic themes, improve our understanding of WordPress, and gain job-ready skills.
COST: Free email sample course (requires email address)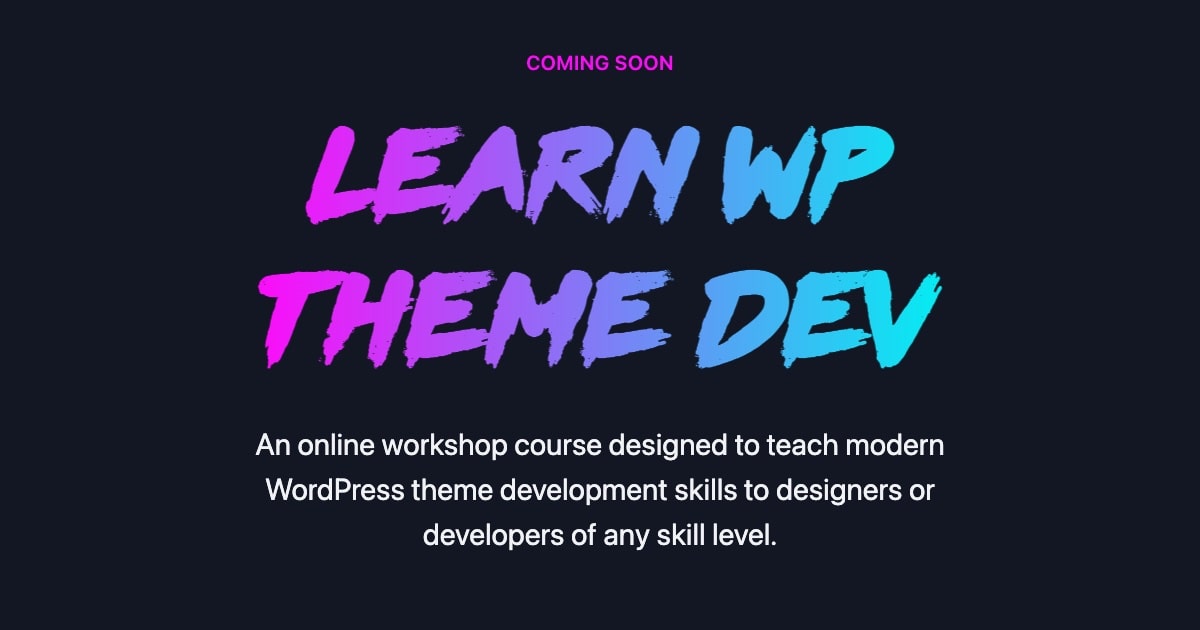 Master WP
The mavericks behind Master WP, Howard Development & Consulting, have brilliantly filled in a much-unaddressed space — teaching the masses about the business and culture of running a WordPress business. They're really ramping up with recent workshops, ranging from diversity to advice for creating client retainer products, building ADA compliant sites, and using WP CLI. I've attended 2 of the workshops and the All-Access pass is absolutely a steal to have access to so much secret sauce. Get to it…
COST: $47 individually / $99 yearly
Modern WP Dev Course
Joey Farruggio is a designer and frontend engineer working mostly with Tailwind CSS and Alpine JS. Joey currently works with larger clients managing bespoke WordPress instances for high-traffic sites like BiggerPockets and Vimeo. Now he wants to pass on his experience to you! The program isn't fully launched, but you can get a little taste of what Joey's offering via Modern WP Dev's sample lessons.
COST: unknown, sign up for updates
OllieWP.com
Serial entrepreneur, Liftoff Creator Course creator, product guy, multidisciplinary designer, WPEngine principal engineer, fellow lover of the color purple, and all around WordPress badass-meets-great dude Mike McAlister is back with another one to elevate the game: OllieWP. Ollie isn't fully operational, but has some sample educational tidbits on its blog. We're looking forward to seeing where Mike takes this.
COST: Free (at present)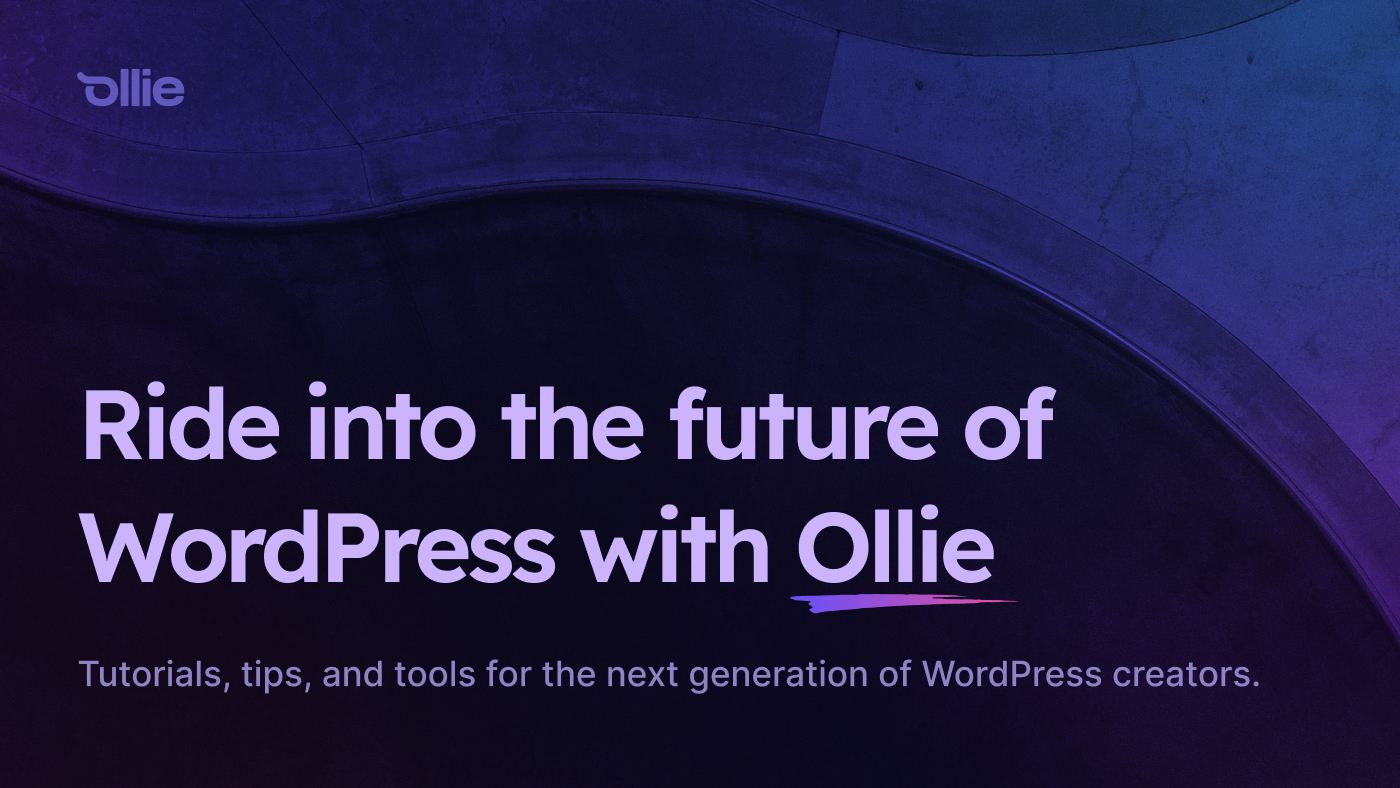 Another serial entrepreneur, themer, product extraordinaire, and probably the chillest dude you'll ever have a Zoom with, Rich Tabor is a boundless resource for folks wanting to dive into modern WordPress theming. As the founder of CoBlocks, ThemeBeans, and Iceberg, and the head of product for Extendify, Rich really knows his stuff.
COST: Free
Ryan Welcher
Developer Relations Advocate at Automattic and fellow guitar wall-hook enthusiast, Ryan Welcher, has been quite prolific, pumping out great livestreams of modern WordPress development. Catch him on Youtube or Twitch!
COST: Free
Nomadic GoDaddy software developer Alex Standiford will teach you how to build modern, scale-able WordPress plugins quickly. If you're a developer looking to up your WordPress game, this course is for you.
COST: $19.00 monthly / $149.00 yearly
WP Development Courses is run by Fränk Klein, a web engineer based in Luxembourg at Human Made, specializing in high traffic websites.
"As a self-taught developer, I know first hand how hard it is to find in-depth and well-researched articles about WordPress development. That's why I created this website, to share what I learn with my peers.
At the same time, I want to help people succeed in their career, beyond just technical skills."
COST: $249.00
WP Engine Builders
What if there were a hand-picked WordPress super team of accomplished and enthusiastic designer-developers whose sole purpose was to bestow their knowledge upon the community and gas everybody up for what's coming? THERE IS – the WP Engine Developer Advocacy team. Brian Gardner (who authored the theme this site is built with, Bright Mode), Nick Diego, Sam Munoz, and Damon Cook stay on top of the whole damn thing and boil it down so we don't have to. Literally their whole job is ensuring developers have access to understanding modern WordPress techniques, and they're not short on content or friendliness. Amazing. Reach out to them on Twitter any time! Full disclosure, this site is hosted on WP Engine and I'm an agency partner. But I'd rep this crew even if I weren't. Sounds crazy, but it's totally true.
COST: Free
WordPress.org
Why not go straight to the source?! Yes, that's right — Learn.WordPress.org has a whole section of resources dedicated to getting you trained up on modern WordPress, authored by long-time experts like Wes Theron, Sarah Snow, Courtney Robertson, and Jonathan Bossenger. Not to mention that WordPress.TV is also chock full of immensely educational talks by people like plugin and theme developer Nick Diego. These resources are an informal masterclass – like being able to take a couple years of WordPress college training for absolutely nothing – you've just got to be pretty self-motivated and self-directed to make something of it. Don't forget to check out the Developer Handbook.
COST: Free